On the Job – Dealing With First Day Jitters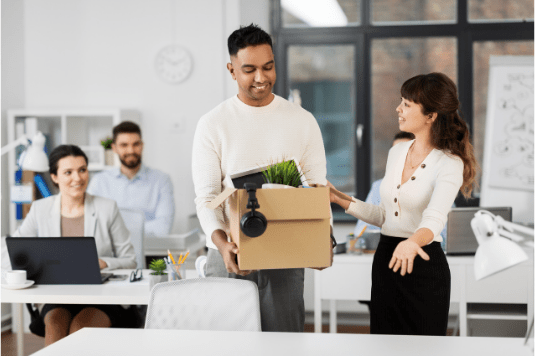 Congratulations on your new job! There's nothing more exciting – and nerve-wracking – than taking that first step on your new career path. You worked hard on your cover letter, aced your interviews, and signed the paperwork. Now all that's left is diving into your new job and making a great first impression. 
It's normal to be nervous, but don't let your nerves get the better of you. We've got some tips to help you stay cool, calm, and collected for your first day on the job! 
Take Care of the First-Day Details in Advance
There is nothing that will frazzle and freak you out more than running behind on your first day. So streamline by preparing ahead of time:
Set your alarm fifteen to twenty minutes earlier than usual to give yourself plenty of extra time and space to deal with your morning routine and any little issues that might pop up 

Layout your outfit the night before so you're not scrambling for something to wear 

Have your briefcase or laptop bag packed and ready to go by the door

Eat breakfast to help boost your energy and keep you focused

Have your GPS set with the address and know where you'll be expected to park

Leave 10 minutes early to allow for traffic
The more you have planned beforehand, the smoother your morning will be, and the easier it will be to focus on making a killer first impression with your new boss and coworkers. 
Get a Good Night's Sleep
We know it's easier said than done. It's hard to sleep when you're excited and nervous about your first day in a new place! To avoid nervous energy disrupting your sleep, try to avoid caffeine the day before your big day and go to bed early with no electronic distractions. 
If you know you usually have trouble sleeping before a big event, try engaging in sleep-enhancing activities the day before. Eat healthy, exercise, drink plenty of water, and avoid alcohol before bedtime. A good night's sleep boosts your energy, focus, and self-confidence, so don't underestimate its importance! 
Putting Names with Faces
Once you're actually on the job, one of the best first impressions you can make is remembering people's names. If you're working for a large company, no one expects you to remember all 500 names right off the bat. But you should focus on being able to put the faces and names of your teammates and immediate supervisors together.  
It may feel nerdy or overeager, but carrying a notepad with you on your first day is tremendously helpful. Write down people's names as you meet them. The kinetic movement will help set their names in your memory and you'll have a cheat sheet to refer to later. And if you're bad with names – especially in the face of pressure – watching you write the names down proves to your coworkers that you're trying your best, which is the best first impression you can make anyway. 
Don't Be Afraid to Ask Questions
During your first few days, you will be expected to ask questions. There are no stupid questions when you're new. Ask about the systems, your passwords, where to sit at lunch, who knows how to use the copier, where the bathrooms are located – anything you need to know. Asking questions makes you seem eager, engaged, and invested. It also helps you get to know your teammates and gives them a chance to show off their skills. 
If it makes you nervous to ask "too many" questions, just remember that asking now is much better than asking later. You're expected to not know things the first few weeks. But if you go a whole month before asking how to get into your team's Google Drive, you'll look incompetent. Take advantage of this grace period and absorb as much knowledge and free advice as you can. 
Be Flexible
Remember that your first day is a big deal for the people on your team as well. They also want to make a good impression during the onboarding process and worked hard to develop your training program. If there are hangups in the system, your name is misspelled or mispronounced, or you have some weird waiting periods between onboarding paperwork and training, be friendly, flexible, and forgiving. 
Point out the issues so they can be fixed and then go with the flow. Your team will be grateful for your good attitude, which will set the tone for the rest of your relationship. 
Looking for a New Job?
Looking for a new "First Day" of your own? Contact Apex Staffing + for more information on our Little Rock job openings + We are currently accepting applications for all listings. You can also check out the Job Openings page for a current list.