How To Improve Your Video Presence While You Work From Home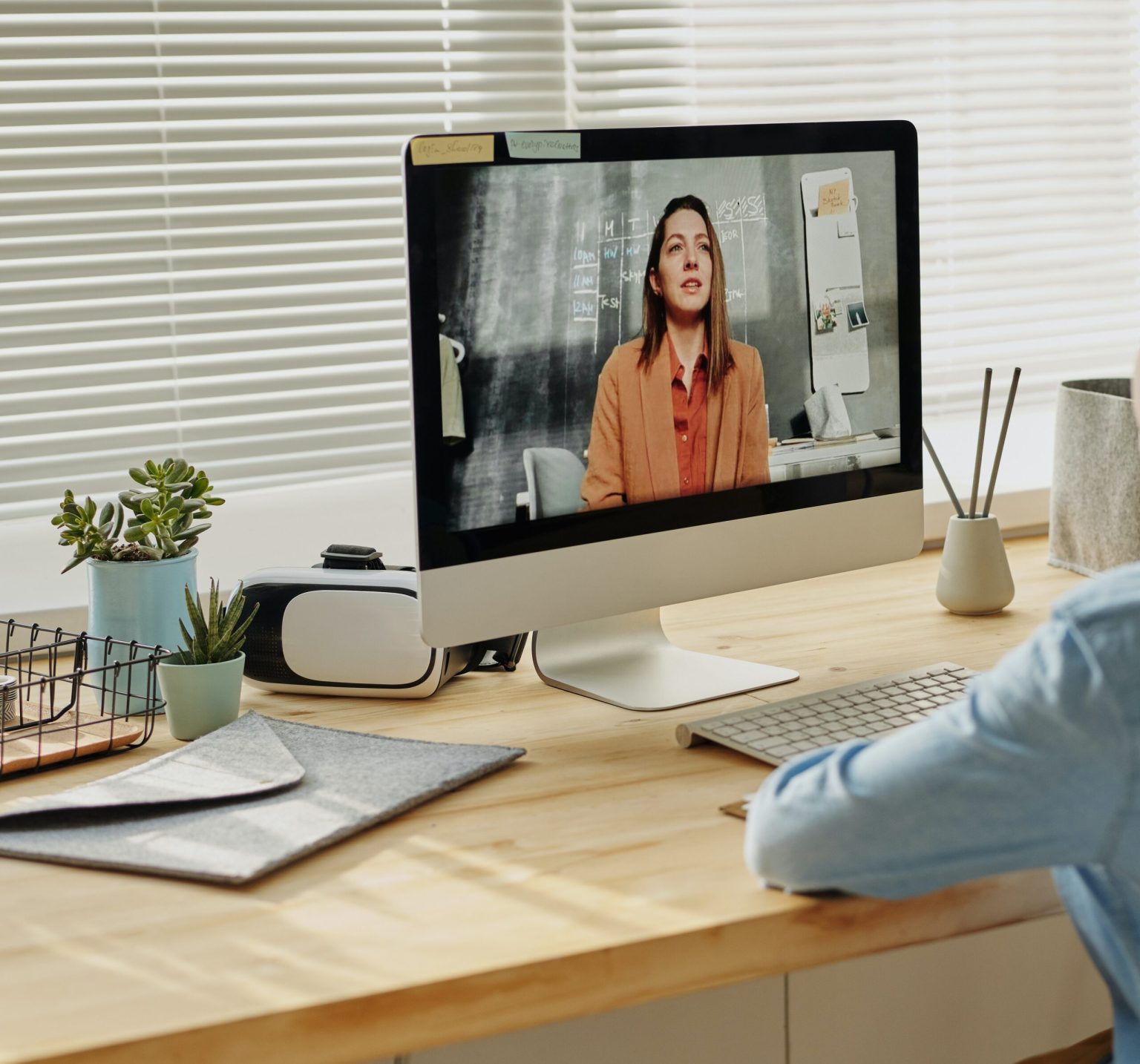 It's a Zoom and Skype call world these days. And whether you're working from home or you're searching for a new job, you want to come across as professional, polished, and put-together on video. While things may become more normal over time, the new normal is video calls, video interviews, and video chat. That means video etiquette is the new company culture – so let's brush up on some tips and tricks for presenting a flawless video presence!
The Best Light Possible
It's not just a metaphoric phrase anymore – now appropriate lighting is key to making a good impression. Overhead lighting can create shadows under your eyes and cast shadows over your mouth from your nose – so avoid sitting directly underneath any harsh or fluorescent lighting when possible. 
Instead, have a lamp on your desk or right next to it. Try not to use a lampshade with fringe or dangling crystals as they can cast distracting shadows. Same goes for colored lampshades – beware of green and blue because they can cast you in a sickly hue.
Always test out your lighting long before your call so you can adjust it as needed. Once you have your most flattering lighting arrangement set up, just leave it for future calls (just don't forget to make sure the bulb hasn't gone out a few minutes before your call!).
For added luster and softness (we're all looking for that wrinkle-free effect!) try "soft" white lightbulbs or something with a pink tint. 
In the Background
Out of sight, out of mind is no longer an acceptable mantra. The people you're interacting with on the screen will be able to see whatever is directly behind you. Always, always check your background on your screen before the call so you can declutter, adjust the angle, or move to a different spot in your home if necessary. 
Remember that less is more with a background. You want people to be focused on you and what you're saying – not the cat box or the messy bookcase behind you. Remove unnecessary items from your desk and your walls if they are cluttering the view. 
If you have a phobia of blank walls, the items we do recommend for a professional background include:
Potted houseplants (just make sure they're alive!)

Artwork and safe-for-work posters

An organized bookcase

Shelving with attractive knickknacks and succulents
Eye Contact is Key
Video calls are distracting. You can see your own face, the face of the caller, and possibly multiple other people in their own little frames – each with something different going on! But try to resist looking at yourself while you talk or looking down at the video of the person you're talking to. This makes it look like you're looking off-screen, which can make you appear distracted or disinterested. 
Instead, look directly into the camera when you're speaking so the other person feels that you are making direct eye contact with them. This projects confidence and attentiveness. If you feel your eyes wandering during meetings, try placing a colored sticker or sticky note above your camera to focus on. Just don't cover up the webcam!
High-Quality Audio
There is nothing more frustrating than not being able to hear someone on a video call. Poor audio reduces the effectiveness of your message and (unfairly) makes it seem like you're ill-prepared. You can't do much about your internet speeds if you live somewhere remote, but there are a few things you can do to keep your sound quality up.
Sit as close as you can to your router to improve connectivity and reduce static. If your computer microphone is enabled you do not have to call in on the phone as well – this can lead to echoing and squealing. Speak slowly and clearly and avoid background noise (like children, dogs barking, loud music, TV in the next room, etc.) to make yourself understood. 
We know this is difficult when you're working from home with children and pets – and most people will cut you a lot of slack for the odd goof. Just minimize the risk as much as possible before your calls. 
Dress for Success
Even when just your shoulders and face are in the frame, dress professionally from head to toe. This will make you feel more confident and in charge. It will also keep you from experiencing any accidental "wardrobe malfunctions" if you have to jump up from your seat or if you drop your phone or laptop. 
Avoid stripes, patterns, and plaids that will distract from your face. Solid colors in flattering tones look best on camera. Don't wear hats – they cast shadows and cover your face. Check your teeth, hair, and makeup before you start the call to avoid any spinach disasters. Avoid loud jewelry like bangles or dangling earrings that may make noise or hit the computer and distract you and your callers from what you're saying.
Be Forgiving and Have a Sense of Humor
Even if every single one of these things goes wrong for you on a call (it can happen to anyone!), remember that we're all trying something new right now. This is a grand social experiment and no one has it completely down yet. So if your cat jumps up to say hello, your kids run past you in the background, your SO yells for you down the hall, or you accidentally mute yourself in the middle of a speech – just laugh it off, apologize, and move on. Because what people will really remember is how you handle the situation. 
If you're looking for a new job, check out our Job Openings page + to see what's available. Apex Staffing specializes in connecting talented job seekers with high-quality, local employers. Our service is completely free for job seekers and we are always accepting applications.